Squier Affinity Stratocaster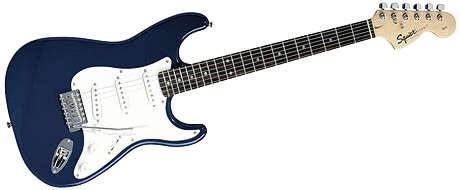 Well, it's a cheap strat. Made in china. And yes, I did steal the picture above from Musician's Friend and added a background to it, but mine looks the same but with a couple of chips in the finish ;-). No modifications except I put on some Dunlop Straploks. In case you don't know the specs of a standard strat, here they are:
Three Single Coil Pickups
One Volume Pot
Two Tone Pots
21 Fret Neck (maple with rosewood fingerboard)
Baltic Blue Finish
Standard Floating Trem
I replaced the tuners with some black Gotoh ones. They're much nicer than the standard ones!
My New Guitar
I will soon be hard at work building myself a new guitar (which I designed, and am building the body for). So wish me luck, I'll post it here when it's done!
Pics of all the parts I have so far.
Its specs are:
Swamp Ash Double Cutaway Body with pots in upper horn, kill switch in lower horn
Shaller "Mini" Locking machines
24-fret Warmoth Neck (maple with maple fingerboard, clear gloss finish, KWS peghead)
Two EMG Select Passive Humbuckers (bridge/neck)
One EMG Select Passive Single Coil (middle)
Three Push-Pull Volume Pots (to turn each pickup on or off, and control its volume)
Master Volume Control
On/Off Toggle Switch (for doing funky toggle switching stuff with three pickups)
Transparent Green Finish (probably)
Reccessed Floyd Rose Trem
1-5/8 Nut Width
I think that's all the specs... If I've left something out, drop me an email, and I'll add it.

So, today I was kinda bored and built a stand for my guitar. It's made out of some old towels, and a piece of plywood. Pics are up here! If anyone wants detailed instructions or plans to make your own, let me know.